Integrative Health Dynamics Path (DIS®)
Context:
We build ourselves according to what we have integrated in our childhood and throughout our lives. The way in which we live our life experiences and the explanations that we bring to it durably condition our development of our physical-psychic-emotional body. We integrate them more or less harmoniously according to our capacities and our maturity of the moment, and of the system (family, school, geographic, work …) in which we evolve.
We might think that this is the only way to work / think / feel, as long as we have not discovered how much of our learning is by mimicry and resonance, beyond our will.
These experiences leave memory traces in our psyche, our physical body, our cells and our energetic body. Even with a strong mind, they can act without our knowledge and we unintentionally leave them to our children.
These educational conditioning limit us; but our limits are also at the origin of our specific view of life that makes each human being unique.
Objectives:
This development path allows you to (re) find your balance and your joie de vivre. Awareness of your memories to free them, transforms the perception of your past so that it serves as a springboard into your present and better express your potential. You are thus advancing on your path of life by being more yourself; you realize how you want or dream.
The complete course has an action on the psychosomatic origins of the physical and psychic symptoms. It represents a major complement to the treatments of classical medicine to lighten the symptoms or to accelerate the treatments, or simply to be naturally more happy, to be happy. Each module very practical can be used for yourself, for others (close, customer).
It also allows you to integrate these tools into your coaching practice, participants playing in turn client and accompanying.
Program and course:
This path of integrative health dynamics takes place in several more or less independent modules. Here is the procedure:
Mastering our energies (according to Deepak Chopra)

: You learn to purify memories and radiate energies for yourself or others (near, client), with methods derived from traditional Indian medicine (ayurveda) according to Deepak Chopra's teaching.

Freeing our systemic memories

: A method derived from systemic configurations (constellations) family, shamanic and organizational = systemic, NLP, hypnosis, concepts of individual and collective unconscious ….

Transmute the impact of our memories for optimal health

, with systemic energetic configurations, regardless of their origins: current family, family of origin, ancestors (regardless of the number of previous generations and whether the genealogy is known or not), previous and karmic lives, archetypal memories …
The modules 1, 2 are independent. The 3rd requires prior participation in modules 1 and 2. The 4th requires prior participation in modules 1, 2 and 3.
Each module of 3 days can be repeated at will to deepen and anchor the practice and your discernment. Participants can thus respect their pace of integration and evolution.
There is a complementary and independent path, global health balance, which corresponds to the "Perfect Health" module of Deepak Chopra, to maintain, reinforce and perpetuate in our daily life our balance of health.
Module Locations: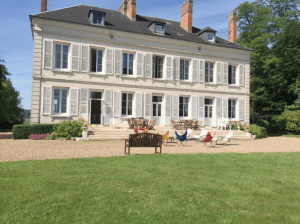 Residential module (R) 1 hour drive from Paris Ouest or 1 hour train from Gare St-Lazare
Non-residential module (NR) in Levallois (92)
On request: Non-residential module for weekends, or residential in the province / abroad (English / Italian possible).
Who are these modules for?
Anyone wishing to advance on their path of life (personal and / or professional), to overcome their patterns of repetition, blockages, physical and psychological symptoms, realize themselves and (re) connect to his joie de vivre.
Any health professional and coaching wishing to develop in addition to his practice and / or preserve its ecology … any client / person met mirroring us on a certain facet of ourselves …
Calendar
February 7 to 9, 2018

Mastering our energies according to Deepak Chopra

DIS module 1

February 14 to 16, 2018

Free our systemic memories (family & systemic constellations)

March 5 to 7, 2018

May 16 to 18, 2018

Mastering our energies according to Deepak Chopra

Free our systemic memories (family & systemic constellations)

June 20 to 22, 2018

Transmute the impact of our memories for optimal health
Prices:
540 euros * for a three-day module – 980 euros * for two modules.
* Price including taxes for private individuals – Companies: contact us – training agreement on request. Excluding accommodation and meals.
Reservation with payment of a deposit of 20% (100 euros for an individual module or 200 euros for two modules).
Inscriptions
To register, contact me for a phone interview, or for more information. Your registration is confirmed upon receipt of a deposit of 20%.
Founder of the approach
Catherine Frade, psychologist, occupational psychopathologist, systemic coach, Dr Pharmacy. She is also a certified instructor at Chopra Center in California, a member of the Pain and Work Network, and a board member of the EMDR France association. She has also trained in different European, Asian and American approaches. She has founded and runs STELIAXE since 2003 (consulting, training, coaching people and organizations in Integrative Transformation).